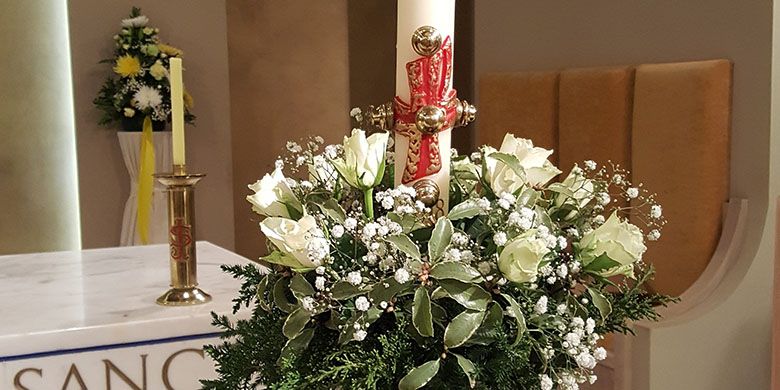 Marriage – Sacrament of Matrimony 
Congratulations on your decision to get married. It's an exciting time with lots of wedding planning ahead! 
While you need only give at least 3 months' notice of your intention to marry it is common practice for a couple to book the church a long time in advance. So it is important to contact the Parish Office – 028 22828 – to make sure that the church is available on the day you require. You will also need to look at participating in a marriage preparation course which is a lovely way for you as a couple to take a look at your own relationship. 
The Civil Authorities also have state requirements which must be fulfilled. Three months notice of marriage is required. Please contact The Superintendent Registrar for Births, Deaths and Marriages https://www2.hse.ie/births-deaths-and-marriages/ Couples must present themselves before the Registrar. 
Things to do before you get married! 
Check the Church is available on your chosen date!

Get a "Booking Form" from the Parish Office

028 22828

 

o

r download it 

here

 

Contact the Parish Priest of the Parish where you

live and

advise him of your plans. He will advise you about the steps to take next.

 

Book into an "Approved

"

Pre-

Marriage course

.  
Websites: www.accord.ie   www.naomi.ie  
Contact the Priest of the Parish where you live and both

 of y

ou need to complete the "Pre-Nuptial

E

nquiry Form." 

 
Make sure you bring with you: 
  A. Your Baptismal and Confirmation Certificates 
  B. Your Pre-Marriage Course certificate. 
  C. Letters of Freedom if appropriate or relevant. 
NB: Each couple, to fulfill Irish State requirements must also contact the Civil Registrar of Marriages in the area where they wish to get married and complete the necessary paperwork. The priest who performs the ceremony is the "Solemniser" whose name is used on the Civil Registrar's form. 
Another useful website is www.gettingmarried.ie, where one can find help with designing your Marriage Ceremony in the Church. 
Getting Married in Skibbereen and Rath and The Islands Parishes 
ALTAR SERVERS 
Couples are welcome to appoint altar servers to assist at their wedding. However, in all cases, these children must be accompanied by their parents in the sacristy before and after the ceremony, in line with child protection procedures in this Parish. A sign-in book in the sacristy is to be signed by the servers, parents, sacristan and priest.  
DECORATION 
Flowers and Decorations:- It is inappropriate to have large flower arrangements on the main altar or in front of the ambo. Please liaise with the Altar Society (flower arrangers) regarding which flowers will be left in the church. Flowers mirror the beauty of God's creation and are welcome, but particular rules apply here: No florist tape or paste may be placed on walls or seats. It would be wise to discuss with the Sacristan, in advance, the flower arrangements for your wedding 
PHOTOS / VIDEOS 
Photographers and videographers must exercise discretion. They should consult the priest conducting the service beforehand and respect his wishes. 
CHURCH OFFERINGS 
The following are the fees we ask for celebrating a wedding in one of our churches: 
Non-returnable administrative booking fee for Church €50 
Use of Church €350 (Non Parishioners) 
In addition, couples should make the usual offering to the celebrant, (the Solemniser) – this usually is in the range from €150-€300 
For further information or to book your wedding please phone the Parish Office on 028 22828