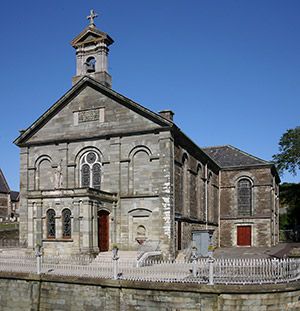 Masses currently live-streamed via the Webcam link:
| | |
| --- | --- |
| Mon to Fri | 9.30am |
| Saturday Vigil | 6.30pm |
| Sunday | 11.00am |
The building was undertaken by Fr Michael Collins as a Parish Church in the Diocese of Cloyne and Ross. The foundation stone was laid in 1825. Completed by 1826, the original was a modest T-shaped building designed by Michael Augustine O'Riordan from Doneraile, Co Cork. 
The first major and by far the most significant improvements to St Patrick's Cathedral were carried out in the early 1880's by Bishop William Fitzgerald. He engaged the services of GeorgeCoppingerAshlin, the finest architect then available to design a radical modernisation of the Cathedral. These renovations changed the dynamic of the building to a cruciform shape and the cast of the Cathedral was transfigured to the splendour it possesses to this day. 
The eastern wall behind the original High Altar was opened and a semi-circular apex was added. The apse was embellished by three stained-glass windows. The High Altar, dedicated to the memory of Bishop O'Hea (1858-1876) and the Marian Altar supplied by Pearse and Sharpe of Dublin were erected. The arcade of three arches above the Sanctuary and two dividing the transepts from the nave, the polished pillars of granite, the coffered ceiling which they support all date from 1882-1883. Two further renovations were affected in 1950 and 2005.