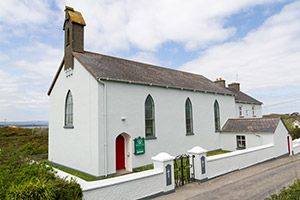 Mass times under normal circumstances:
Saturday
4.45pm
Check locally for Mass times as they may vary
St Mona's Church Sherkin Island was built in 1830.  It replaced an older ruinous building located in the same townland, Kilmona or Cill Mona (St. Mona's church in Irish). 
The building has undergone renovations over the years, mainly in the late 1940s but also in the early 1990s when the roof was replaced.  Heating was also installed at that time.  The entire building was repainted inside and outside a few years ago and an information sign was erected on the wall outside the main entrance door. 
General care of the church such as cleaning, taking care of the altar materials and providing flowers is seen to by local families as is the role of the sacristan.   
There has been no permanent resident priest on Sherkin Island since Fr. James Coombes left in 1961.  Many priests have spent their holidays on the island over the years and some continue to do so and they often fulfill the pastoral role during their stay which helps to alleviate the demand on the resident parish priests.  Mass is usually celebrated on the island on Saturday afternoon at 4.45pm