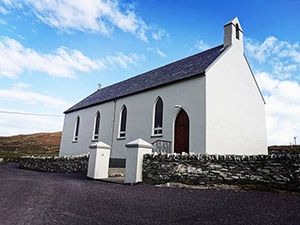 Mass times under normal circumstances:
Sunday
10.00am
Check locally for Mass times as they may vary
The people of Cape Clear were the first people in Ireland to believe in Christ. St Ciarán was born here in the 4th century and it is said that when he heard from sailors about a new religion in Rome he went there and embraced Christianity. 
He was ordained there and after 30 years returned as Bishop of Ireland. He converted the island community to Christianity and built a Church here. Tobar Chiarán – Holy Well, Gallán Chiarán – pillarstone and Cill Chiarán – Church ruin are all located in the harbour area and have for centuries featured in the La Le Chiarán ceremonies each year on his feast day of 5th March. 
The current church was built in 1839 and dedicated to St Ciarán.